As an authorized servicer, we've seen the damage done by cut-rate, generic and counterfeit
supplies that do not comply with the Original Equipment Manufacturer (OEM) standards.
When your machine runs poorly or breaks down, those discount products can
cause unnecessary repairs that cost a lot more in the long run.
OEM supplies extend equipment life and improve overall performance.
ACAL provides OEM toners, inks, cartridges, drums, belts,
a wide selection of paper products, staples and more. 
ACAL delivers everything you need.  



THE BUSINESS MACHINE EXPERTS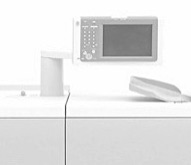 "The supplies we order from ACAL are top quality, and at the best price." Terry Hanley Audio Systems
Directions Rt 95 to Exit 32A-B (Rt 3-North). After 2 miles, take Exit 26 (Rt 62) and head straight onto Crosby Drive.
At Crosby's end, turn left on Middlesex Tpk. Continue 2.4 miles to 751 Middlesex Tpk, on your left in Manning Park.
751 Middlesex Turnpike
Billerica MA 01821
800-439-7374
service@acalcopiers.com
Monday through Friday
9 am to 5 pm
THE BUSINESS MACHINE EXPERTS